Called Out! Last Improvisor Standing
January 25 @ 10:00 pm

-

11:30 pm
AN IMPROV COMEDY COMPETITION SHOW WHERE BEING LAST MATTERS!
6 Improvisors compete for a tiny plastic trophy!
Oh, and also to be the last person on stage. Most improv shows find the "weird behavior" organically, whereas, in this show, the Improvisors will be choosing a random weird behavior from a bucket. The audience will choose a location, and that's where the show begins. A bunch of weird characters in a location chosen by you. There's also a host who will be more of a referee providing the Improvisors with walk-on support which can shake things up. The Improvisors will have to use every trick in the book to avoid being Called Out! The last Improvisor gets a trophy, and if there's enough time left, the Improvisors will return to the stage for a jam and more stage time.
With: Bri Giger, Aricia Skidmore-Williams, Conner McCabe, Blake Edwards, Miranda Rae Hart, Kevin Rivera
-—
Covid Policy:
It is strongly recommended that audience members be vaccinated and wear masks at our shows. We will provide masks at the door for those who would like one. Additionally, we reserve the right to require masks for select shows based on the needs of the performers and staff.
We will continue to use the LA County Department of Health and their resources for guiding Covid-19 policies. Policies are subject to change.
Parking:
Please allow ample time for parking. UCB does not provide parking services. Street parking is available in the neighborhoods surrounding the theater.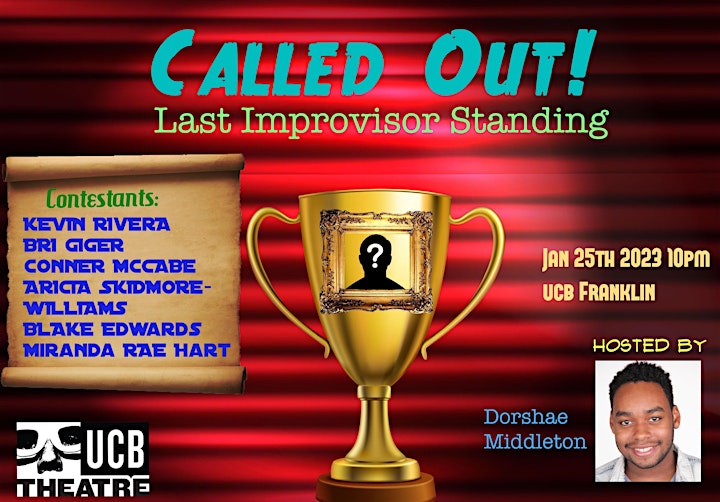 Purchase Tickets
Follow our theatre on Eventbrite by clicking here.